Andrew Boardwine, Morning News
FLORENCE, S.C. — The real estate market in the Pee Dee is trending upward at the midyear point of 2018.
The market saw increases in new listings and median sales prices for the year to date, as well as a decrease in days on the market.
Keon Aldrich, president of the Pee Dee Realtor Association, said she was excited looking at the overall body of work and statistics thus far in the year.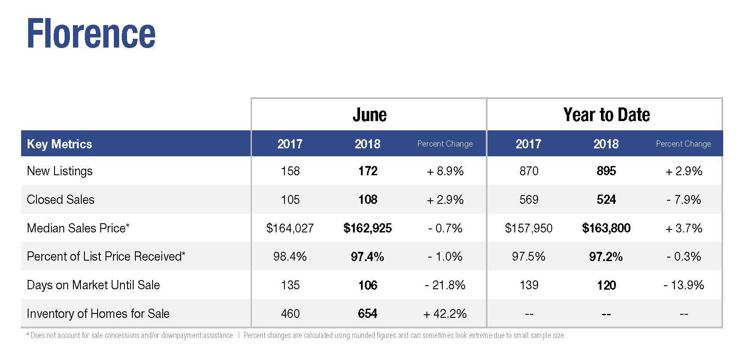 "It's really exciting to see how good the numbers look," Aldrich said. "We're really seeing growth, and it's a great thing for the entire community."
In June of 2018, new listings for Florence were up 8.9 percent from 2017, and the days on the market decreased from an average of 135 in June 2017 to 106 in June 2018. The inventory of homes for sale was up to 654, as opposed to just 460 in 2017, creating a 42.2 positive percent change.
"Normally you get a lot of agents saying they're not busy during the summer, but that hasn't been the case this year," Aldrich said. "It's been a busy time for the entire Pee Dee area."
In Florence, year-to-date numbers show good signs for the future, Aldrich said.

New listings have increased from 870 in 2017 to 895 in 2018. The median sales price has increased from $157,950 to $163,800 and days on the market until sale have dipped from 139 to 120.
Closed sales were down 7.9 percent from 569 in 2017 to 524 in 2018 while percent of list price received remained almost unchanged.
"People out there are seriously considering purchasing homes," Aldrich said. "People want to buy houses. Though that 'closed sales' number is a bit down from last year, that doesn't really concern me. People are continuing to move to our area, and everything is as good as it has been in quite some time."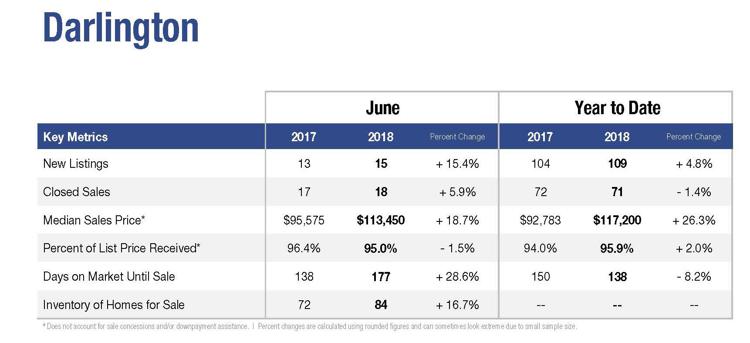 In Darlington, new listings are up 4.8 percent from last year. The median sales price has increased from $92,783 in 2017 to $117,200, and the days on the market have decreased from 150 in 2017 to 138 in 2018.
"It speaks to the overall quality of houses we have on the market," Aldrich said. "People are willing to pay more, and that also speaks to the health of our overall economy."
Aldrich credited the growth in the Pee Dee to several things, including the downtown development in both Florence and Darlington, as well as the location of the area.
"We're not a fast community, but we're just right," Aldrich said. "People are coming to retire here. I've found that a lot of people really like it in Florence, because it is the middle point for a lot of things. Downtown, not just residential, but also the new businesses that are coming to our area have really contributed to the growth."

Aldrich said the outlook for the real estate market for the future looks bright and doesn't see any reason that entire Pee Dee community won't benefit from the continued growth.
"I think it's going to continue to get better," Aldrich said. "I don't see us going back. I see growth. I love the fact that everything is changing for the better, and it's just wonderful to see and be a part of."
https://www.flochamber.com/wp-content/uploads/2018/08/PDRealtor.jpg
1244
1666
Meg Feagin
/wp-content/uploads/2015/11/Web-redesign-300x121.png
Meg Feagin
2018-08-02 12:12:15
2018-08-02 12:12:50
Real estate market showing gains in Pee Dee